Unusual Weapons of the Knight
The Middle Ages was a time of much conflict and warfare. During this time many unusual weapons were created to solve battlefield problems. Many of these weapons are familiar to us such as the sword, axe, or lance. But there were many lesser known and unusual weapons that were created during this time in history.
the Man-Catcher- Not all weapons were created specifically for battle or for hand to hand combat against an armored foe and a good example of this was the Man Catcher. This unusual weapon was a long pole arm with a semi-circular pronged shape catch at the end. There was a spring-loaded trap on it and it was used to reach up, capture, and pull down someone mounted on a horse. The primary use of this weapon was to capture enemy royalty for later ransom.
The Sword breaker was another unique weapon developed and used during the Middle Ages. This was a long and very sturdy dagger that had slots on one side much like the teeth of a comb. This was a standard off hand weapon that was used to capture an opponent's sword blade. Once the blade was caught a quick twist of the sword breaker would snap the opponent's sword blade
The Caltrop - Not all weapons were hand-held and the caltrop is a good example of the ingenuity of the art of combat and the dynamics of the battlefield. The caltrop was a fabrication of metal that had four points much like a childs Jack. The unique thing about the caltrop was that if you threw it on the ground, because of the four pointed structure, it would always fall with one point standing straight up and this was a serious danger and deterrent to cavalry or even foot soldiers.
Dagger Variations - Some of the most unique and unsual designs in weapons were in the realm of the dagger and many different daggers came out of the Middle Ages including the Rondel which was a long conical shaped dagger. It was specifically a piercing weapon and it's conical shape made it look much like a long and slender ice cream cone. The Poniard was another unusual dagger because it had either a square or triangular shape. This shape was effective for piercing armor.
The Gun Shield - This was a shield believed to be used by the personal body guard of Henry VIII. It is of Italian design and it has, at its center, a breech loading match lock pistol. In use around 1544-1547. The small square above the barrel of the gun is an observation port.
The Middle Ages saw a trememdous development in many types of weapons. Some of these weapons are still in use today but some of the more unique ones, because of their very specific applications, are no longer seen. Yet they remain as a testament to the nature of the medieval battlefield.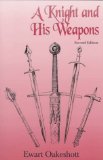 A Knight and His Weapons
Take an engaging journey back in time, when battles were fought with swords, lances, maces, and an array of well-crafted devices that could be elegant and ornate, brutal and efficient, or both. This accessible, lively, and informative book explores many facets of the medieval world of weaponry. Did you know, for instance, that in the fifteenth century ""fight books"" with drawings guided knights in the proper use of weapons? That the average medieval warrior became a full-fledged fighter by the time he was fifteen years old? Or that armor made by a master could, by modern standards, cost the price of a Rolls Royce?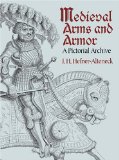 Medieval Arms and Armor: A Pictorial Archive (Dover Pictorial Archive)
This handsome archive depicts richly detailed armor and weaponry dating from the early ninth century to the mid-1700s. Adapted from decorative ornamentation on burial monuments and manuscripts, hundreds of finely executed images depict authentic shields, swords, crossbows, helmets, and ornate suits of body armor for knights and their steeds. 100 black-and-white plates.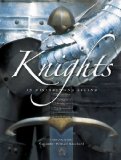 Knights: In History and Legend
The most comprehensive book on knights and knighthood available.
The word "knight" conjures up images of gallant men in gleaming armor astride noble steeds, searching for foes to fight and fair maidens to rescue. In Knights the reality of knighthood is detailed, warts and all. This handsome reference tells the true story of these mounted warriors, who evolved from simple soldiers on horseback to defenders of the faith during the Crusades.