Medieval Castles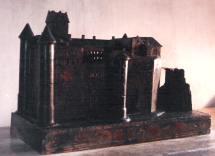 Here is a model of a Medieval Castle. This is the Meersburg castle in germany. It is believed to have been built in the 7th century which makes it well over a thousand years old.
About Medieval Castles
These early earth and wood castles were called Motte and Bailey and were made of a mound of earth (motte) topped with a wooden tower. And encircled by a protective wall ( bailey)
Over the centuries castles were improved for maximum fortification both offensive and defensive and one of the most important improvements was the fortification of the outside walls which were built thicker and thicker. This is predominantly because of the development of artillery. They eventually were designed as fortified places for royalty to live.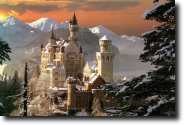 Of all the Medieval Castles in the world this one is the most famous. It is Neuschwanstein located in Bavaria Germany. It is widely held that this is what the famous Disney castle is modeled after.
Neuschwanstein official Homepage
What were the main purposes of a Castle? The basic function of a castle varied and their use changed over time. The three main uses of a castle are:
When were the first Castles Built? It is generally accepted that the first castles were built around the tenth century in the north of France. These early castles were built of earth and wood.
Some of the Defensive Features of Medieval Castles
Castle Resources
Castle Want to Know How a castle is built? This Caldecott Medal winning book takes you through the whole process step-by-step. It is all done in pencil and pen and ink drawings and is simply maginificent. If you love to know how things are made you should check out this book
The Medieval Castle Website - includes some pictures of the inside of a thousand year old german castle.
Do you know the parts of a castle? Know what an oubliette is? How about a Motte? Here is a nice listing of the parts of a castle. Many of them have pictures. The parts of a castle
E ver wonder what life in a medieval castle was like? It wasn't what we picture nowadays in the movies. Here is a great explanation of the daily life in a castle.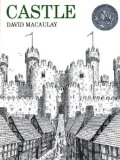 Castle
Imagine yourself in 13th-century England. King Edward I has just named the fictitious Kevin le Strange to be the Lord of Aberwyvern--"a rich but rebellious area of Northwest Wales." Lord Kevin's first task is to oversee the construction of a strategically placed castle and town in order to assure that England can "dominate the Welsh once and for all." And a story is born! In the Caldecott Honor Book Castle , David Macaulay--author, illustrator, former architect and teacher--sets his sights on the creation and destiny of Lord Kevin's magnificent castle perched on a bluff overlooking the sea. Brick by brick, tool by tool, worker by worker, we witness the methodical construction of a castle through exquisitely detailed pen-and-ink illustrations. Children who love to know how things work especially appreciate Macaulay's passion for process and engineering. Moats, arrow loops, plumbing, dungeons, and weaponry are all explained in satisfying detail. This talented author also has a keen sense of irony and tragedy, which is played out in the intricacies of the human story: a castle can be built as a fortress, but ultimately it becomes obsolete when humans discover that cooperation works best.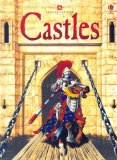 Castles (Usborne Beginners)
This exploration of castles is part of a series introducing children to the wonder of the world around them. It has two reading levels, with a simple sentence on each page for beginners, accompanied by more complex information which can be read as the child's ability grows.